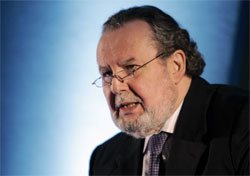 When a renowned figure in the world of academic and business information describes your system in glowing terms as 'an innovation', you know you've got something right.
David Worlock, respected UK data and business publishing expert, was writing about our competence assurance software, E-qual, in his latest blog post.
In the article entitled 'Innovation is History' he reveals his frustration at the lack of true innovation in many companies and their inability to carry out real change. However, his enthusiasm when he discovered what E-qual Competence Assurance has to offer is obvious. Its innovative approach to helping organisations to introduce a new system for tracking employee competence clearly impressed him.
Competence has always been an important requirement in industry, but only recently has measuring and proving the competency of a workforce become a priority for many organisations. David sees the lack of joined up thinking across industries slowing down change and innovation in this area.
"Yet what is it about innovation that means that no one in forestry would look at what works in oil and gas , or no one in light engineering would look at how things are done in pharma."
We believe that forward thinking organisations who utilise our software will have an advantage and that Mr Worlock's prediction that "no one recognises innovation until it has happened and is history – and too late." will not be true for these adopters.
Find out about the 'innovative' E-qual Competence Assurance – www.e-qualcompetence.co.uk
About David Worlock
David Worlock is a Cambridge History graduate who joined Thomson Reuters as a trainee in 1967, and subsequently worked in educational and academic publishing before managing Thomson's school-based publishing as Group Executive Publisher in the late 1970s.
Since then he has worked at director level for several major publishing and data analysis companies and has worked in an advisory capacity for Public Sector Information (Cabinet Office), the Content Advisory Board (DfES) and Oxford Brookes University. He acted as Special Advisor to the House of Commons Select Committee on Science and Technology's enquiry on Science publishing.
David has extensive experience in information marketplaces globally, including software and electronic publishing in educational, academic, business and professional information fields. His blog is recognised as an important voice in the world of online software and solutions.
View David Worlock's full biography
Read the full blog entry